GoLink operated by STAR Transit
GoLink Inland Port Connect, an on-demand service provided by the Southern Dallas County Inland Port Transportation Management Association (IPTMA).
Service Hours
Monday - Friday, 4:00 a.m. - 8:00 p.m.
How to Schedule a Ride
Download the latest version of DART's free GoPass app from the App Store or Google Play.
Select "Plan" within the app and enter your location and destination information.
Choose your desired trip option – GoLink and UberPool will appear as selections, if they are available for your planned trip.
If you choose GoLink, continue booking in the GoPass app. Be sure to specify if you need an ADA-accessible vehicle. For UberPool trips, you will be linked to the Uber app to complete your request.
For GoLink: Purchase a DART fare within the GoPass app, if you don't already have one, or use your stored GoPass Tap card for payment.
Once you book your trip, the GoPass app will provide your driver's name, the vehicle type, license plate number and pickup location.
Don't have a smartphone?
Book your trip by calling 877-631-5278.
Note: Phone reservations must be made in advance. Only same-day trips accepted. Reservations accepted Monday – Friday, starting at 4:30 a.m.
Fares
Your GoLink fare is covered by a valid contactless DART fare when booked through the GoPass app or by calling 877-631-5278.
GoLink fares are per person, per trip – children under 5 may ride free when accompanied by an adult with a valid fare.
Note: If using GoPass Tap, each person must have their own GoPass Tap card.
Travel Tips
Enter your current location and desired destination, either with the app or by calling 877-631-5278.
Do you need an ADA-compliant vehicle? Make sure to request it when booking.  Riders with disabilities may bring service animals on board.
All trips require a reservation. No walk-ups allowed.
Be ready. Vehicles depart briefly after arriving at the pick-up point noted by the app.
Children ages 12 and under must be accompanied by a fare-paying adult.
Need to cancel a trip? Let us know before the vehicle arrives, either via the app or by phone.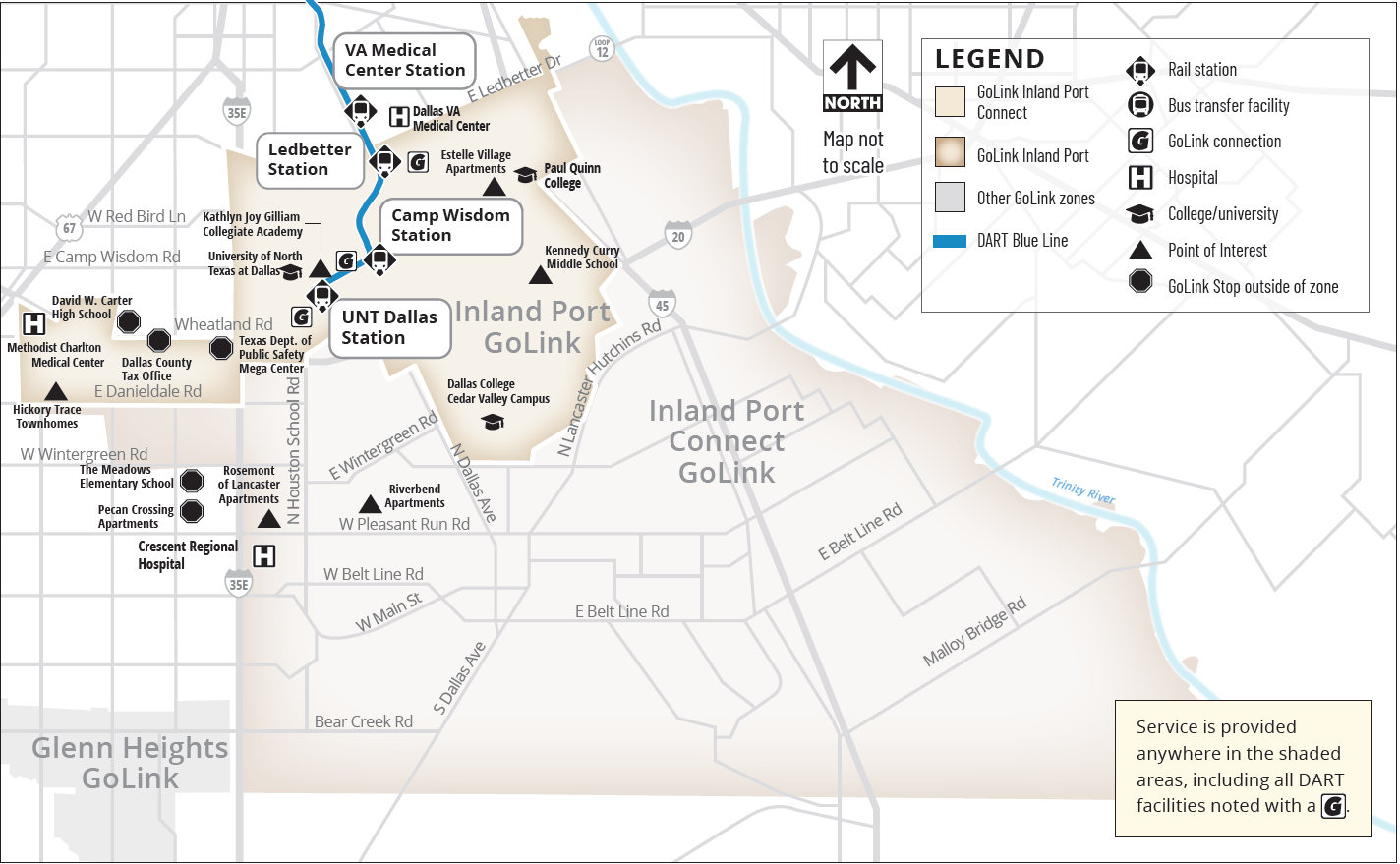 Service Holidays
Service is not available on the following days:
New Year's Day
Thanksgiving Day
Christmas Day